Tax free shopping
All orders with billing and shipping addresses outside the European Union are excluded from 21% VAT (Value Added Taxes). To achieve this, follow the steps in the checkout, and after we've been confirmed that the billing and shipping address is outside the European Union, the 21% VAT will be excluded from the grand total of your order in the final step of the checkout. Prices shown on baskets-store.com include 21% VAT (Value Added Taxes) and exclude delivery charges, custom duties or import taxes.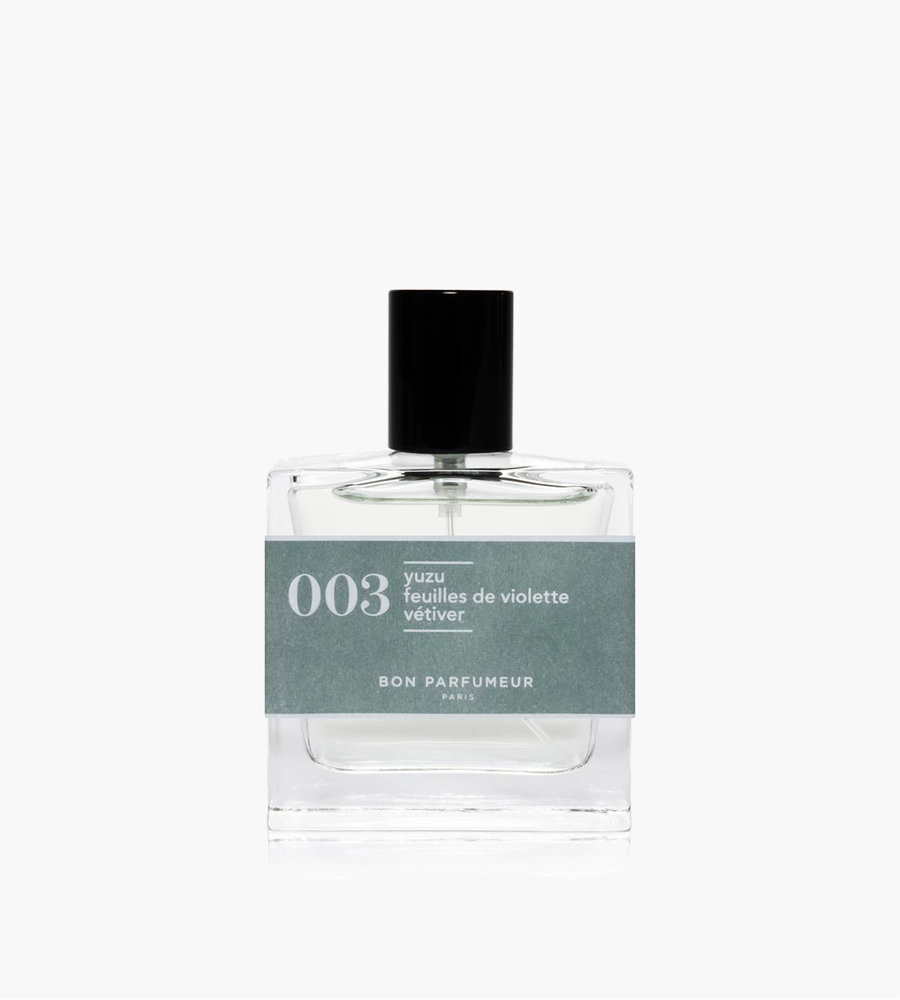 Bon Parfumeur

Bon parfumeur 003 cologne intense
SKU 3760246987202
Bon Parfumeur 003 Cologne Intense : 30ml
yuzu / violet leaves / vetiver
Eau de parfum. A striking and invigorating freshness. 

003 is a cologne with a vegetal scent. At first, this fragrance offers generous minty and zesty notes. Giving one a sudden and crazy desire for a mojito! Its delicate and fresh green tea notes bring an intoxicating lightness. The notes enhance the powdery white flowers. It is a cologne that hides its airy and soft woody playfulness. Elemi notes enchance all the facets of this addictive fragrance, both zesty and woody. A most refreshing olfactory journey.

Olfactive Family: cologne
Gratis verzending* bij bestellingen boven de €100 (NL) / €200 (EU)
| | | | |
| --- | --- | --- | --- |
| Nederland | PostNL aangetekend | €6,50 | 1-3 dagen |
| | Store pick-up (Elandsgracht) | €0 | 1 dagen |
| Europese Unie | DPD Standard | €15 | 2-7 dagen |
| Rest van de wereld | Standard Worldwide | €35 | 6-12 dagen |
| | UPS Saver | €50 | 2-6 dagen |
Klanten buiten de EU betalen geen of 21% BTW
Kijk voor meer verzendinformatie op onze verzending pagina.
*Gratis verzending is bij sommige limited edition sneaker releases uitgesloten
Als je niet tevreden bent met je aankoop dan kan je gemakkelijk een bestelling retourneren binnen 14 dagen nadat je het ontvangen hebt. Je kan een aankoop retourneren of omruilen in onze winkel in Amsterdam (Elandsgracht). Voor meer informatie kun je contact opnemen via email met [email protected] of je kunt ons tijdens kantooruren bellen op +31 (0) 20 851 38 88.