17/03/2020 - 12:30
Kat klerks - nike air max 1 amsterdam
Kat Klerks
Kat Klerks started making art three years ago. Atmospheric and warm artworks now adorn many interiors in the Netherlands and abroad. Amsterdam and especially the Jordaan is her home.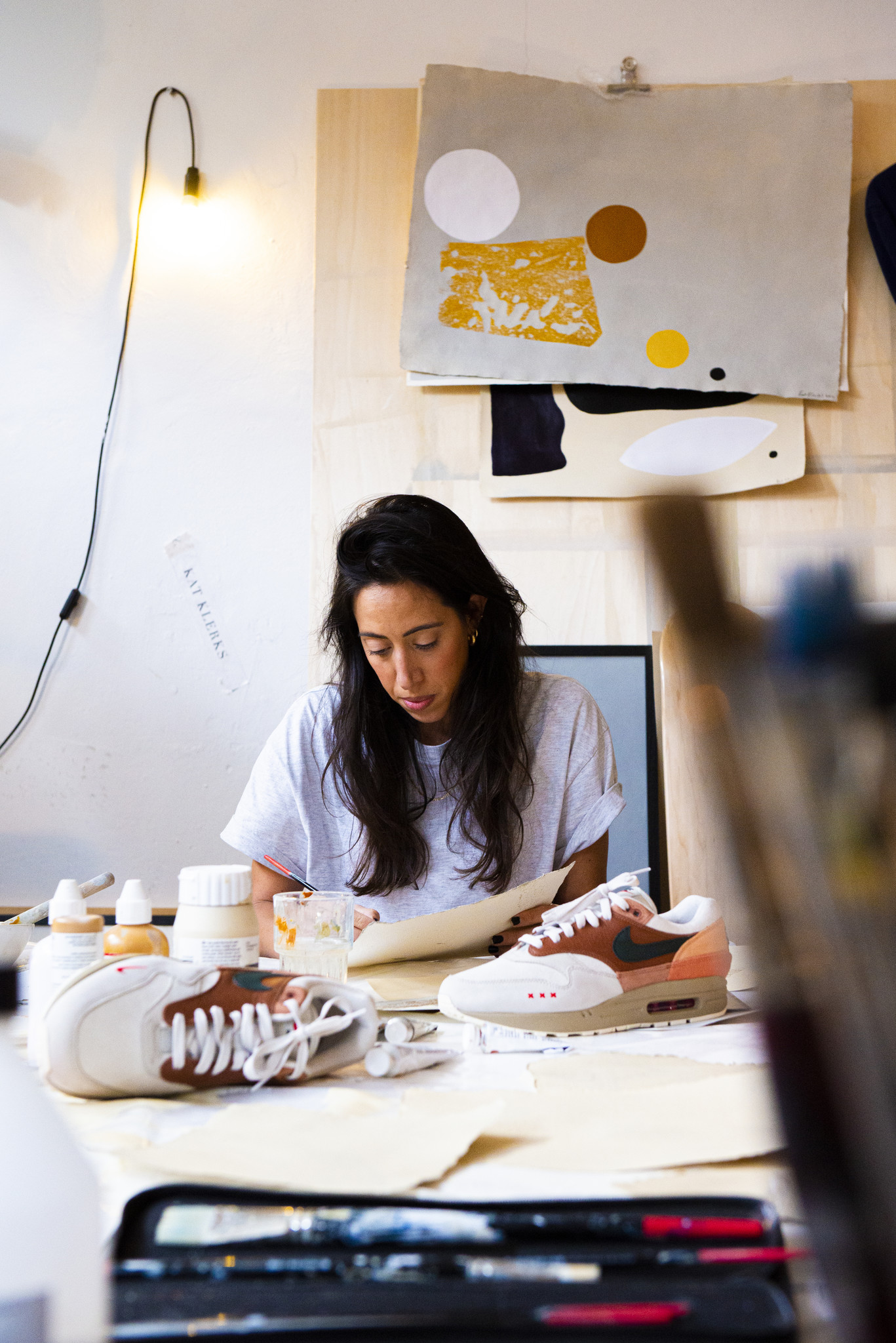 How did you get into the art world?
My art and being an artist is a bit of a hobby that got out of hand. I just painted for myself because I wanted something I could hang at home that would fit our interior. I have always been creative, so I thought I would just try it myself. I literally started with Xenos paint and canvases from Hema. That was three years ago, now it just takes very serious forms. It all just happened, it was not premeditated. I embraced everything that came my way and went for it. In the back of my mind, I thought: we'll see how it goes.
How did your first success come about?
I went on Pinterest to look at some pictures and illustrations, and I thought: oh I can do this myself. I just started painting. I found the result to be successful and I hung it all at home. Then Casper Reinders (interior designer and owner of many restaurants and clubs in Amsterdam) came to pick up something from our home and he said: "This is so cool, please take care of the art for my new restaurant". This was for Libertine in the wolvenstraat. From the moment my art was on the wall, it started to take off because the demand was high.
Where did you get your next podium in Amsterdam after this start?
During my success at Libertine, I was approached by the Hoxton hotel and asked if I would like to do an exhibition at the hotel. The Hoxton mainly wants to support locals, so I thought: yes, I am going for it. During the exhibition opening, I did not know what was happening. Everything sold out within 20 minutes. Afterwards, I realized I had to fill the expo for another two months. So every day I went back and forth on my bike to bring new things. After this, it rocketed and foreign galleries in Paris, Antwerp and even one in America approached me.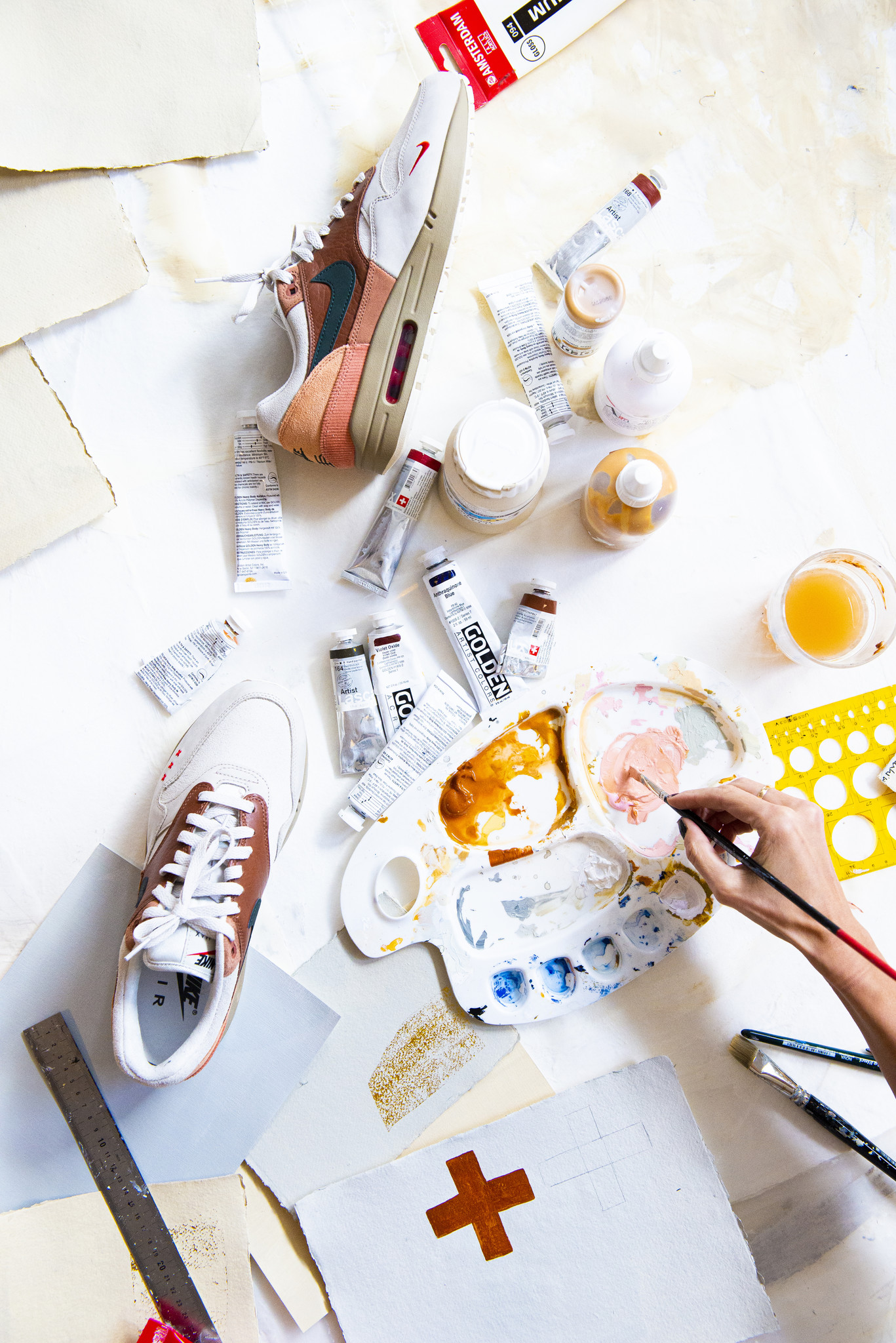 What was it like to have your expo in a hotel instead of a gallery?
I loved having my art hanging in a hotel because it is very accessible for our generation. I never enter a gallery myself, I immediately think it has an exorbitant price or there is someone behind a desk staring at me. In a hotel, you can just relax and look at what is there and the price tag that goes with it without anyone talking to you. That was the moment I knew that hotel exhibitions suited me. After the Hoxton hotel, I did an exhibition in the Park hotel. The Park hotel now has my art in every room, which I think is extremely cool.
Sounds incredible but also very busy, how do you keep control?
The first 1.5 years were crazy and still are. Nowadays I have a better grip on everything because it changed into being my real job instead of a hobby.
You are originally from Eindhoven, what's your connection with Amsterdam?
I knew from an early age that I eventually wanted to move to Amsterdam. I am a city person, I just need city air. Overall, I think that Amsterdam is terrific. I believe my success would have been much more difficult in any other city. Amsterdam is friendly and sweet, not that harsh. Relatively, there is a small creative world if you compare to London or New York where it's just a jungle to survive. I believe that my living in Amsterdam had a great influence on my success. Here I have a strong network, and know a lot of people who want me to succeed.
What are the developments in the art world that you feel in Amsterdam?
I notice that art is now more accessible, the new generation makes it more approachable and because I believe our generation is also much more aware of the interior and their home. "Home" is becoming much more important nowadays. I think I could be best categorized in the interior branch, and my style just fits very well with the current zeitgeist. I am not going to fabricate a very difficult story about the art I make. You like it or not, and I find that very liberating, that this is possible in art. I love that everyone has his or her interpretation of my art. What I also notice is that my work is often bought when there is a milestone in someone's life, a marriage, birth etc. that makes it even more special for me.
What are you proud of in Amsterdam?
The people. The youth, the in-crowd, my generation. I enjoy seeing how adventurous and ambitious we are. How we start shops, set up companies, organize and how we are ever so supportive of each other. Even though there is already happening a lot, we keep innovating and I love that.
Favourite place in Amsterdam?
My art stems from my mood, and my environment has a major influence on that. My favorite place is the neighborhood where I live and work, the Jordaan. You get a bit of a village feel here, but there is also a lot going on here. Every day when I walk to the supermarket, I see so many different and unique people. I think it is cool that it is different every day. For me, the Jordaan is kind of my village in the city.